ABOUT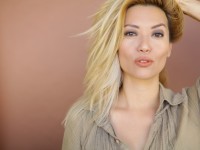 Ryon Peck
 Storyboard Artist, Concept Artist, Illustrator and Story Teller.
Ryon Peck started painting and drawing before she could even speak and started to draw at the tender age of 3 years old. Then at 13 yrs of age, she was sent to study at the Metropolitan Museum of Art, NYC. Ryan studied briefly, at Parson's School of Design and at The Fashion Institute of Technology, in New York City, but fell in love with the art of cinematic story telling and opted for sunny skies in California to study with figure master, Glenn Vilppu and pursue illustrations, storyboarding, concept art and film making at The New York Film Academy, on full scholarship.
Some of her credits includes; "The Nice Guys", "Sharknado 2", "The Adjustment Bureau", "The New Daughter", "Heroes", "Jonah Hex", besides a flock of commercials like, BMW, MAZDA, Nike, McDonald's, Toyota, FRS Drink, as well as advertising and tons of music videos to not to mention for artists such as, "Fergie", "Beck", "Tyga", "Katy Perry", "Maroon 5", "Chris Cornell", "Ciara", and "Usher."
Ryon is fast on the draw with her favorite Faber-Castell pencil to whip out your thoughts on to paper quickly while delving into the minutiae of the subject matter, extracting the finer details and adding some in a causal and relaxed atmosphere. Some programs she likes to play with are Photoshop, Corel Painter, After Effects, Zbrush, Flash, Premier Pro, and Final Cut Pro and is moving into Pre-viz.
When Ryon is not creating art on her Cintiq tablet, or writing or doodling new ideas for her Sci-Fi graphic novel, she likes to Surf the waves, play chess competitively and create vegan-vegetarian gourmet meals for friends and help rescue animals. She is always in search of smiles and sunshine while being of service.